Kart Sp. z o.o.

Developers

Kraków
Wadowicka 12
Kalwaryjska 33 is an office, service and retail building situated in one of the most dynamically developing districts of Krakow, that is Podgórze.
This perfectly situated Vistula district is no longer associated with neglected tenement houses or dangerous alleys. The prestige of this place constantly increases and thus we decided to locate our major investment here.
An unquestionable asset of the office is an easy access for both people who use public transport and for those who use their own means of communication. Additionally, the Podgórze's surroundings are very attractive areas for spending free time. There are newer and newer restaurants or pubs, whereas the inhabitants of Krakow – who are bored with the old city or Kazimierz – joyfully benefit from the broad range of services in this place.
The key inspiration for Kalwaryjska 33 is greenery referring to the botanic center, which has been operating in this place for more than 20 years. Taking the tradition of this place into consideration, we decided that the central point of the office will be a green tree spreading on all tiers of the building. Additionally, there will be greenery on each floor in the form of flowers in pots, or atrium with a living green wall, which will become a source of inspiration for creating inimitable relaxation or representation parts.
We did our best to take care about each detail of the building; starting with a glazed soft elevation and ending with the possibility of free configuration of interiors. Such activities are to enable adjustment of the future work environments in accordance with the individual needs and preferences of tenants. A perfect communication sphere, representative entrance hall, professional sanitary facilities, car spaces and places for bicyclists – thanks to that, Kalwaryjska 33 will become a place pleasurably visited by people and to which everyone would be eager to return.
Learn more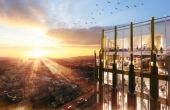 Company offers