Office Buildings in Kraków 2011 summary
Release partners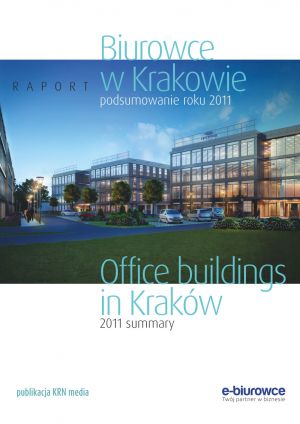 Download report
The strong position of the capital of Małopolska among the biggest cities in Poland has been confirmed in 2011. In terms of the size and dynamics of the office buildings development Kraków was second only to Warsaw.
The research conducted by the team of e-biurowce.pl in the first quarter of this year concerned the preferences of office property tenants (their demands and expectations) as well as the possibilities of the investors constructing modern office buildings to fulfill the needs.
The turbulences on the global markets in 2011 didn't have a significant influence on the Polish office market, which didn't seem to notice the economic problems of the countries affected by the crisis. Kraków is not just only the cradle of culture but also a city of international business that confirmed its importance in the outsourcing services' world. The highly qualified personnel and the infrastructure development in 2011 determined the big potential of the city for the activity of international companies from the BPO, ITO and R&D sectors.
The analysis conducted bywww.e-biurowce.pl indicates that in 2011 a record-breaking number of over 70 000 sq. m of office spaces has been rented. That is why a significant fall of the number of vacant buildings has been registered (down to 13%).
The authors of the report Office Buildings in Kraków – 2011 summary claim that the rent sums have fluctuated at the level of 13 euro/ sq. m during the last year.
According to the predictions, Kraków's office market experience a period of stabilization in 2012. The optimists expect that the number of office space will increase and the interest of the international corporations affecting the big demand on the market will continue to be high. On the other hand, Monika Franaszek, Senior Leasing Manager in Grupa Buma, believes that the supply will an equally high level as in the last year and in 2012 the demand will remain at a similar level as in 2011.
We invite you to take a look at the complete content of the report.