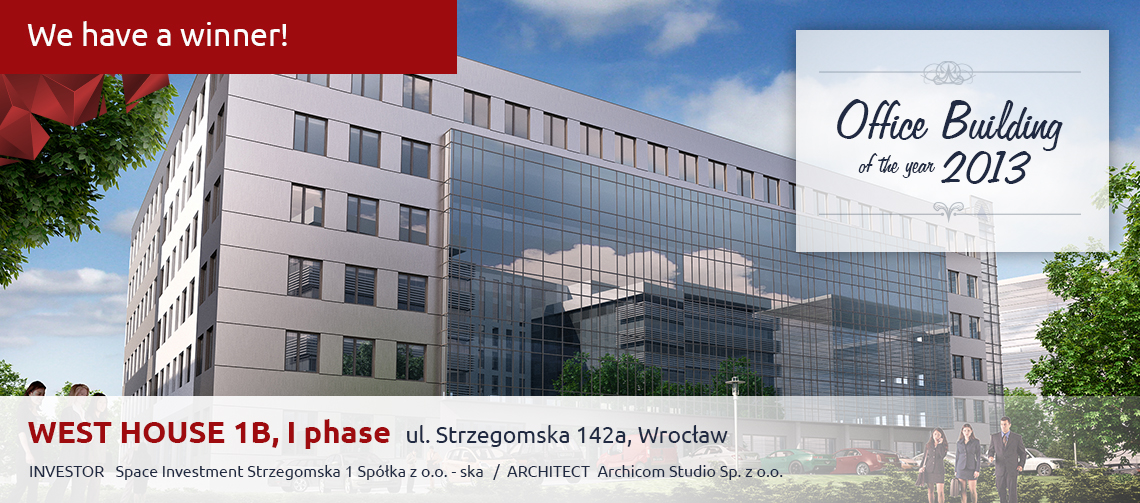 The first edition of 'Office Building of the Year' competition has ended! Thank you for the great interest and a lot of votes. The competition was fierce until the very end. Every one of the 16 projects participating in the contest received a lot of votes from the readers of e-biurowce website. But the winner can be only one and we would like to announce that the title Office Building of the Year 2013 goes to West House 1B in Wroclaw! Congratulations!
West House 1B is part of the West Forum complex. In 2008 the first building of the complex – West house 1A -was commissioned. In 2013 the first stage of the West House 1B received the occupancy permit. The building offers 6,000 sqm which has been already rented entirely, 4,000 sqm is occupied by Netia, while the remaining 2,000 sqm was rented by OBSS, who will move in at the beginning of the 2014.
The office space in West Forum is planned to be supplemented with restaurants and shops. The overall space available in the complex will approximately be 100 000 sqm in 6-8 edifices, all build in accordance with LEED certificate.
West House 1B, besides receiving 'Office Building of the Year 2013' title, will be also shown on the pages of the latest publication by E-BIUROWCE: The summary of the office market in 2013.
There is an attractive prize also for the voters - every participant who filled in the proper form, will receive the latest issue of the paper version of E-BIUROWCE.PL, in which the winning design will be published.