More than 40 per cent of energy consumption in Europe is generated by buildings, 75 per cent of which are characterized by low energy efficiency. Does it mean that buildings of high energy efficiency guarantee lower costs? Is a certified building actually cheaper in exploitation? What does the name "exploitation costs" really mean and how users of buildings can influence them? The answers for these and other questions will be discussed during the 2nd edition of the 21st Century Office conference.
The conference will be held on 16 May 2017 in Westin Hotel in Warsaw. The list of speakers will include e.g. representatives of developers, managers of real estates, lawyers and academic environment. The conference will be divided into three discussion panels. They will be preceded with presentations during which the experts will be discussing issues concerning energy consumption in offices, exploitation costs and possibilities of their lowering as well as tenants' expectations regarding areas.
A starting point for the discussion will be a report Energy consumption in office buildings,1 which was devised by Skanska, Go4Energy and Cushman & Wakefield. The discussion of the report will be a starting point for the discussion on increased awareness of the market concerning certification, costs related to servicing of offices as well as a role of people who use the buildings.
Additionally, the discussion on possibilities of lowering exploitation costs at maintenance of high quality of the internal environment in both new and existing buildings will be held during the discussion panel Office Yin Yang. There will be also a discussion on sustainable construction and new technologies, whereas the panel Tenant dictates the conditions will revolve around tenants' expectations regarding office areas.
The conference will be a perfect platform for exchanging views concerning the future of office buildings in Poland. The organizer of the event is the Nationwide Association for Supporting Sustainable Construction (OSWBZ).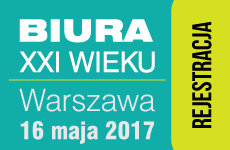 Prior registration is required. Details available here: 21st Century Office
Attention! Lower prices only till 2 May!
---
1The report "Energy consumption in office buildings" is available on the website http://oswbz.org/raporty/