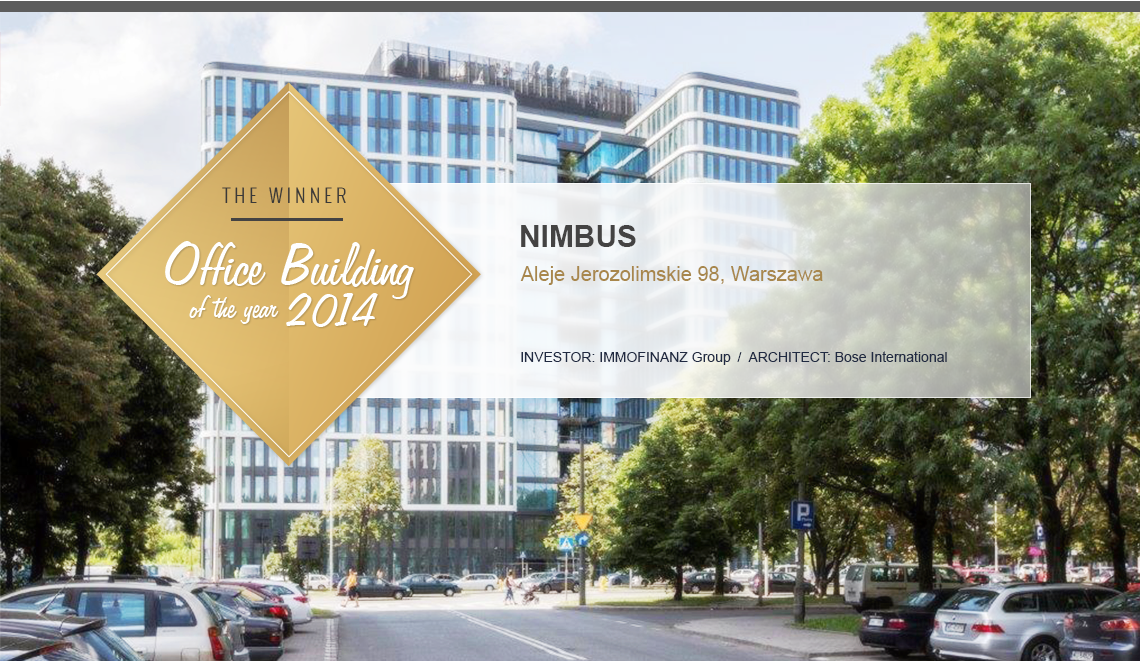 The Office Building 2014 – we know the winner!
Which investment received the greatest amount of votes in the competition organized by E-biurowce.pl?
The second edition of the Office Building 2014 competition came to a close. We would like to thank you for your interest and precious votes, thanks to which each of the presented 17 investments gained its group of supporters and had a chance to win. It is also worth mentioning that it was the fight to the finish! However, like in each competition – the winner may be only one!
We would like to announce that the title of the Office Building 2014 goes to the Nimbus!
Congratulations!
Nimbus is the first office investment of the IMMOFINANZ Group company in Warsaw.
The construction started at the end of 2012, the official building of a foundation stone into the structure was held on 16th May 2013 and the first tenants moved into the office in February 2015.
The realization costs of the investment amounted to ca. 35 million euro. The project is located in the Warsaw Ochota district at Aleje Jerozolimskie 98 and it offers 19 000 sq. m of office and commercial area.
The Western part of the building offers 14 rentable floors and the Eastern part – 15 floors. The offered areas are joined together with green terraces and balconies at the front of the building which enables a friendly environment at work.
The tenants have 200 parking places at their disposal in a 3-tier underground garage. Moreover, the building received the LEED ecological certificate and the list of its tenants includes such companies as Marsh & McLennan Companies (MMC) and Omnitec.
The draft of the structure was prepared by the Bose International Planning and Architecture studio. "While working on our projects, we pay particular attention to the environment in which a certain building is to be realized. In case of the Nimbus office, we deal with an urban context which means a lot of office buildings, almost no green areas and several trees. Our aim was to create a warm contrast. First and foremost, the "green" aspect was important for us. Therefore, we decided to realize a design, the transparent glass elements and terraces of which provide a proper amount of sunlight and friendly atmosphere at work."
Marek Tryzybowicz, architect in Bose International Planning and Architecture.
"This is how an office building in 2015 should look like, of course also from the technical point of view."
"The best office projecet on the market! Very good quality, nice and efficient design, good location."