The City Within A City
INTER-BUD is currently executing a new project – Fabryczna City – in the city center of Krakow. It will be an interesting investment design aimed at creating a small city with a complex of buildings with different and complementary functions. As a target, there will be three prestigious office investments class A with office space for rent, several elegant residential buildings as well as two revitalized historical buildings after the former POLMOS Vodka Factory with a developed service part. Fabryczna City will bring new life to postindustrial areas in the city center of Krakow.
The investment is being executed in a dynamically developing district – Grzegórzki – next to one of the main thoroughfares of the city, that is Aleja Pokoju. There are the Krakow City Hall and the complex of court buildings in the neighborhood of the investment, whereas the Marshal Office is projected. All people who commute by public communication will certainly appreciate a close proximity to two main hubs – Rondo Mogilskie and Rondo Grzegórzeckie – as well as numerous tram and bus lines that provide a quick connection with different locations in Krakow. What's more, there will be also a stop of PKP Rapid Urban Rail Transit that connects the city with the suburban areas and the airport. There will be also a developed chain of bicycle paths for enthusiasts of bikes. This well-communicated location in the very heart of Krakow distinguishes this investment against other projects.
Work-Life Balance
Fabryczna City will be a multi-use place for working, living, dealing with many issues of every-day life and spending free time with the offered services and facilities on spot. It will be very easy to achieve a perfect balance between work and personal life, the so called work-life balance. Undoubtedly, some factors will be helpful in this matter: interesting culinary concepts, green patio and numerous innovative solutions.
The revitalized historical part will consist of a luxurious concept hotel and gastronomic premises with gardens located on the external pedestrian street (covered with a glazed roof that performs a function of led screen). In the gastronomic part there will be: Italian restaurant with a winery, stek&burger house, sushi bar, whisky bar and café with baker. An interesting complementary part will be a brewery connected with a bowling area, room equipped with billiard tables and dancing hall. There will be also a lot of microapartments for rent in the residential part.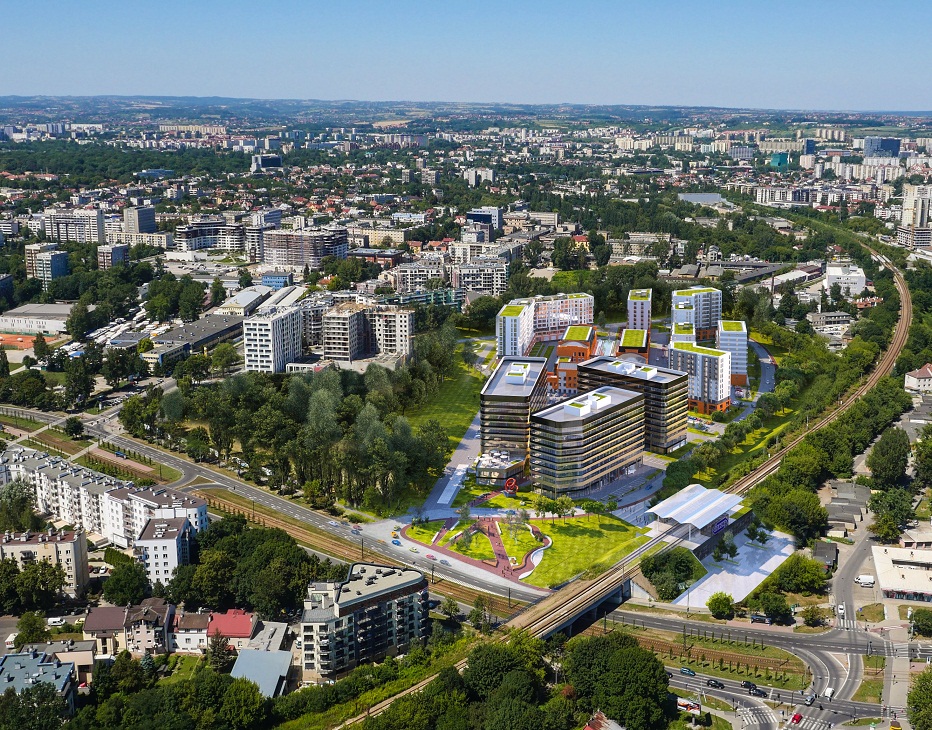 In accordance with the investor's assumptions, Fabryczna City will consitute a new attraction of Krakow. This is a pioneer way of thinking about investment as the self-sufficient whole, which provides high quality of life and rich infrastructure of associated services. This is also a place where the 100-year-old history will be intertwined with modernity.
Equilibrium Between Space And Nature
Fabryczna Office Park is an office part of the complex that comprises three modern office buildings class A, which offer over 42 000 sq. m of leasable space as well as nearly 850 aboveground and underground parking spaces and over 300 bicycle stands. The first office is currently under construction and it will be completed in Q1 2019. There are green courtyards around the building, mini-park and a number of facilities: restaurant, coffee point and canteen with summer garden, whereas safety will be provided thanks to the round-the-clock security and CCCTV monitoring system.
Fabryczna Office Park (www.fabrycznaofficepark.pl) is being executed in accordance with the principles of sustainable development. The care about the natural environment will be confirmed by the BREEAM ecological certificate at the Excellent level. There will be different solutions favoring electric energy saving with maintainance of user comfort, which will allow for lower service fees and care about better health and well-being of tenants. The list of pro-ecological solutions will include: stations for charging electric cars, stands for bicycles, changing rooms and showers for bicyclists.
We spend many hours at work every day, thus office and its location are two extremely important elements. Work place must be comfortable so that employees could perform their tasks in the most efficient way and feel comfortable. What's more, office design is also important as it reflects the image of a given company. Investors need to reconcile different requirements set by tenants in one project. Office space in Krakow is still increasing, so the bar for attractive and comfortable office areas is raised. A response to the expectations of investors is Fabryczna Office Park, which represents the right image of tenants and provides employees with the best working conditions in a well-communicated location. It is also important for future tenants that there is only one entity which acts as both executor and future manager – Grupa INTER-BUD, ensuring coherent and harmonious functioning of this place.