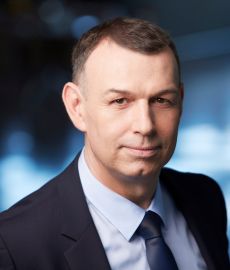 Revitalization of old buildings is the most frequent form of investing among developers who realize office investments. Why did you decide to start this undertaking?
We have been considering and analyzing different ways of realization concerning this investment at the stage of creating a concept of the Pomerania Office Park complex. There were various ideas suggested by our team, however, the modernization of the existing buildings seemed to be a natural development direction of this project from the very beginning. On the one hand, its unique location in the historical part of Gdańsk obliges us to choice this development path. On the other hand, it is also a unique opportunity. At present, there is a big competitiveness on the market of commercial properties and all companies which are searching for new locations for their offices are going to choose structures distinguished not only by a technical standard and close proximity to developed infrastructure, but also by character of a certain place. Therefore, a small and revitalized structure will certainly be outstanding among several dozen of standardized offices.
What factors have you taken into consideration while selecting the complex of the UNIMOR building in order to realize your undertaking?
The complex of buildings at Żabi Kruk 16 Street in Gdańsk is a kind of a place which is historically related to our company. The production activity in industries in which products of UNIMOR have been known for ages was conducted in that place. In consequence of transformations related to changes of owners as well as successful process of reorganization and rebranding of our company, we decided that realization of commercial investments and management of office properties will be prorities in our business activity. Therefore, a natural step for us was to benefit from very attractive assets at Żabi Kruk Street and realize a modern office complex in that place.
What are the opportunities and threats related to this revitalization?
As the most frequently pointed out barrier and threat of this revitalization by the opponents are high costs of this undertaking. Initially – at revitalized buildings – they may be higher even by several dozen per cents in comparison to building of a "traditional" office. The opponents also emphasize that the modernization of the structure is definitely far more complicated due to architectural works, for it requires a certain specificity and care about even the smallest details.
On the other hand, all supporters of this solution indicate – except for a long-standing profit of the investment – a role of modernized buildings in maintenance and enriching of the urban structure. The revitalized structures automatically become a business card of a city and they definitely enhance the prestige of a particular location. In our opinion, the profit and loss account will be in favor of this revitalization within the nearest years, especially when the uniqueness of modernized structures and their continually increasing value are taken into consideration.
Pomerania Office Park will be situated in the neighborhood of the historical development of Stare Przedmieście. Hence, are you obliged to obey any detailed regulations in the area of a proper architectural project of your investment? How will the architectural project of Pomerania Office Park refer to the history of the place where it is being realized?
Pomerania Office Park perfectly signs itself into revitalization assumptions for the area of Stare Przedmieście, which have been consequently implemented for several years. Our project is an example of cooperation and support of local authorities in the program concerning revitalization of areas degraded in Gdańsk, which has been realized since 2009. By creation of modern office areas, we use assets of existing development and special character of structures surrounding our complex among which there are e.g. former military barracks. We do not realize another structure that will be distinguished among characteristic development of Gdańsk, we would like to realize a building that will be perfectly incorporated into that development and which will emphasize its history and architectural assets.
As a target, three office structures: Zefir, Fala and Atol will be realized within the Pomerania Office Park complex. How did the idea for names of certain buildings originate?
Names of certain buildings within Pomerania Office Park have double meanings. On the one hand, these are terms which were given to different models of TV sets produced by UNIMOR. On the other hand, there are a natural reference to the greatest asset of Tricity – that is the sea. In accordance with our conception, the first building of the complex – Zefir – gives an impulse to Fala (structure located at Wilcza Street), which then creates Atol (structure located at Żabi Kruk 14 Street). The chosen names create a certain history, which perfectly signs itself into tradition of Tricity and reflects its characteristics.
The first structure – Zefir – will be ready in 2016. What is the current stage of construction works related to its realization and what is the process of commercialization in this building. Have you already signed your first lease agreements?
We have already completed works at repair of the roof and we are preparing ourselves to the repair of elevation and complex modernization of area inside the structure. Except for construction works, we prepared a showroom together with the main fit-out contractor in the building – Xplan, where potential clients will be able to see the development direction that we are following while revitalizing this complex. At the same time, we are conducting advanced talks with potential clients who are interested in location of their offices in Zefir. First and foremost, we address our offer to all tenants from the IT sector as well as administration and public institutions. We hope that soon we will be able to benefit from the first effects of these negotiations.
What are your plans related to the building of two other structures of Pomerania Office Park?
At present, we are totally concentrated on realization of the first element of the complex – Zefir office. A comparatively difficult situation on the market of office properties and annually increasing competitiveness make that we are not going to build projects speculatively – as great majority of developers do. We hope that thanks to efficient realization of Zefir and its high standards, we will be appreciated on the Tricity real estate market and that will allow us to conduct works at realization of other elements of the complex.
Thank you very much for the conversation.