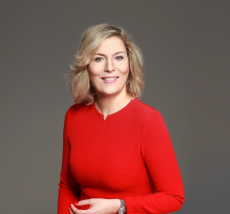 Flowcrete Poland is in the big league of resinous flooring producers in Poland. The company gained distinction "Construction Company of the Year 2017" granted by the "Builder" monthly magazine whereas you were awarded the title "Personality of the Industry 2017". Congratulations! Could you tell us something about the beginnings of your company on our domestic market?
Thank you very much. The industrial awards confirm the strong position of Flowcrete on the Polish market. I am really proud about our development as a team and the efficient organization over the past several years. We started our business activity in 1994 as a commercial office of the Sweden Perstorp company and we placed the original Sweden technology of resinous flooring on the market. We have been operating under the brand "Flowcrete" for 15 years. Our team is composed of experienced technicians, engineers, architects and process engineers, who carry out custom-made solutions for concrete investment projects. We cooperate with trusted partners and we managed to create the chain of our Authorized Contractors in the country and abroad. High quality of our products and services makes that the Flowcrete resinous flooring solutions are used in the most prestigious office buildings in Poland such as Warsaw Spire, Q22 or Alchemia in Gdańsk.
One of your largest investments was the performance of flooring in the underground garage of Warsaw Spire. Could you tell us something more about this peculiar project?
This is an incredibly interesting project. We delivered a technology and materials for more than 73 000 sq. m of Deskshield flooring to all five tiers of the underground garage of Warsaw Spire, which holds over 1200 parking spaces. Thanks to the fact that we secured the concrete slabs with resinous flooring, the entire building gained extended lifetime. As it is currently the highest office building in Poland, we suggested a technology adjusted to specific construction solutions, thus Deckshield flooring is of increased thickness, performed on the layer of flexible membrane made from polyurethane resin. Both aesthetical flooring and legible marking make the underground garage in Warsaw Spire a visually attractive, friendly and safe space.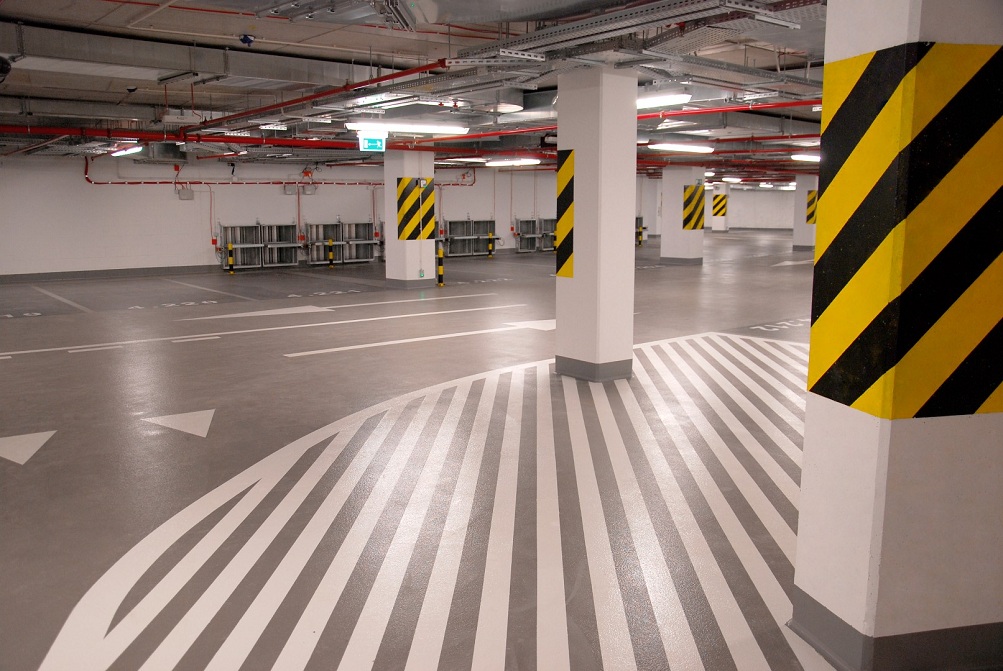 What are your other projects in the office buildings?
Deckshield flooring is a solution used on car parks of the most recognizable buildings in Warsaw – Q22, the Tides, Orange Business Park, Eko-Park or Bobrowiecka 8. We operate on the office market all over Poland. Our flooring systems may be found in the investment certified in the LEED system at the highest Platinum level – Alchemia in Gdańsk, Bonarka for Business and Quattro Business Park in Krakow as well as Millenium Towers in Wrocław. We delivered our technology and materials for 25 000 sq. m of flooring to the underground garage in Quadrum Business City in Vilnius, that is the largest office complex in Lithuania.
Basing on your experience, could you tell us what types of resinous flooring are the most frequently used in the office buildings?
The overwhelming majority of resinous flooring solutions in the office buildings are intended for car parks, which operate as the entrance zone to the building and decide about the first impression. Apart from the aesthetical function, this type of car park flooring secures both base and ceiling plates against destroying due to intense traffic and de-icing means. Our major system for car parks – Deckshield – is devised on the basis of polyurethane resin. Its main features are: high flexibility, crack bridging capacity and high abrasion resistance. The system is characterized with low volatile organic compound content, which is crucial for office projects that apply for environmental certificates such as LEED or BREEAM. In case of modern office buildings, it is also important that Deckshield flooring reduces the tire screech sound, which then increases the comfort for all users.
There is a wide variety of applications when it comes to our resinous flooring solutions and I do not only mean car parks or technical rooms. We offer decorative systems for commercial investments. The example of such flexibility is our office designed as a showroom. There are elegant decorative flooring solutions as polished terrazzo performed on representative spaces, effective stony carpets in conference halls as well as industrial systems which make interiors more industrial.
You celebrated 20 years of existence on the Polish market several years ago. It is a lot for running a business activity! Many things have probably changed since then, including your company's mode of operation. Could you tell us more about the most significant changes that have occurred over the years? What are your plans for the foreseeable future?
Yes, indeed. We organized a lavish party on this special occasion. And next year we are going to celebrate 25 years of activity! Flowcrete have undergone numerous transformations over the years, especially recently. We have grown dynamically and entered the export market. A turning point for us was launching our own production unit in Warsaw. Thus we may react quicker to the needs of our customers and place new products on the market in a shorter period. In result, we export our flooring to 17 countries, including Russia, Romania, Serbia and Bulgaria. We also increased the employment to over 50 people. As we needed more space, we relocated to a larger office last year and moved our production unit and warehouse to a newly built and two-times bigger production hall. Our plans for the future are as follows: continuation of the long-term development strategy which has turned out to be really successful. We are constantly adjusting our products to the changing environment and the needs of our investors.