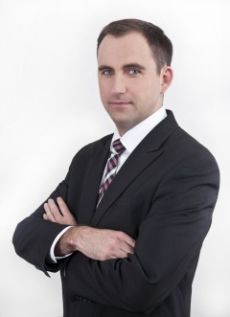 Bonarka for Business is a part of Bonarka City Center. Can you tell something more about the idea of the City Center? What are its assumptions?
Bonarka City Center is a multi-functional city center carried out in three stages. Within the confines of the first stage, a commercial-entertaining centre, the so called "city in the city" is being built; shops, cinema, restaurants, cafes, etc. The second stage is Bonarka for Business (B4B). It is the A-class office complex, 35.000 sqm large, where modern architectural, technological and functional solutions ensure friendly work environment and flexibility of interior arrangement. The third stage was thought to be a housing estate consisting of dozen of apartments.
Is the plan to build apartments still on schedule?
In response to the needs of Lesser Poland's office buildings market, we decided to temporarily put off the construction of apartments, and focus on further B4B development.
Recently, a new C building has been open in Bonarka for Business complex. Office building D is under construction. Information about further investments has appeared. Will the company focus on constructing another office buildings? Could you give us more detailed information?
As you have mentioned, the fourth office building (D) is under construction. It is 9.500 sqm large. We plan also to build further office buildings, 50.000 sqm in total, which will belong to B4B complex. However, the next stage of the investment is considerably dependant on the demand for A-class office buildings in Krakow. Nonetheless, taking into consideration the commercial success of the recent buildings, we hope that future ones will also be attractive to possible tenants.
TriGranit Company has placed its Polish investments in Katowice in Krakow. Why?
We are one of the leading developers in East-Central Europe. We have been present on real estate market since 1997. We specialize in commercial projects by creating modern, multi-functional objects in strategic, big cities of a country. Krakow and Katowice are cities very attractive to investments. That is why they have become ideal locations for our first projects in Poland.
What is the shape of the demand for luxurious office spaces in Poland now? What other cities, apart from aforementioned Katowice and Krakow, TriGranit Company finds attractive?
Polish office buildings market is still developing. Companies performing modern services for business are key tenants of the office buildings not only in Krakow, but in Poland. As a result, major Polish cities have not experienced the recent financial crisis.
Poland is one of the most wanted locations for outsourcing investments, with the emphasis on IT, finance and accounting services. Poland is still attractive to investors, because of low costs and availability of high-qualified workers with foreign languages. However, I would not call the office space of such companies 'luxurious'. They live up to sophisticated technical expectations and are functional most of all. Nevertheless, outsourcing, which is the main cause of the development of Krakow's office building market, is a result of cost cutting. That is why, such companies try to avoid the so called 'luxurious spaces' even in Poland. An office on the 35th floor in the centre of Warsaw, where a few hundreds of people serve customers from the other end of the world, does not fit into such strategy.
At the moment, TriGranit, together with Polish National Railways, is carrying out an integrated Communication Centre – Poznan City Center, consisting of a railway station, a bus station, public transport and a commercial centre which will be 58.000 sqm big. Poznan is the city with great, social and economic potential. Therefore, during further stages of the investment, we are going to build office spaces, just like in Krakow.
Information has appeared that TriGranit Company has become the sponsor of women basketball team - Inea AZS Poznan. Why?
TriGranit tries to take active part in social life of a city, thereby consolidating the brand on Polish market. In this case, we have had a chance to foster sport spirits and promote active way of life among children and teenagers. We were very willing to do so. In Krakow, our social activity can be seen in active help to Siemacha Foundation.