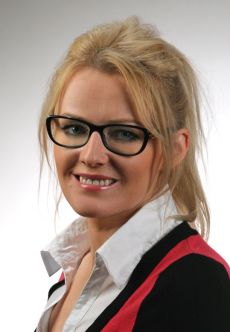 The market of modern office space in Poland is developing in accordance with a certain schema – from Warsaw, as a capital and the biggest city in Poland, through large regional centers (Cracow, Wrocław, Tricity, Katowice or Poznań), to smaller cities, such as Kielce, Olsztyn, Białystok or Toruń, which arouse a great interest among investors from the sector of modern services for business. The offices which are being built there meet all requirements of modern A class structures.
What do you think about the investment potential of Toruń against other regional office markets in Poland, especially in the Kuyavian-Pomeranian Voivodeship?
In my opinion, the investment potential of Toruń against other regional office markets is very high. The main assets of our city, which influence on this grade, are mainly: central location of the city on the map of Poland, a direct access to A1 motorway which improves the route Toruń – Tricity and Toruń – Łódź – Warsaw. Moreover, another crucial factor is low exploitation costs (media) in comparison to other regional markets and one of the biggest advantages – the access to qualified staff, educated by the Nicolaus Copernicus University which is placed in the first ten of universities in the country and its besieged fields of study concern economy, finance, IT and philology. It is our device for a demanding BPO/SSC sector along with the biggest Business Link in Toruń – a sphere of entrepreneurship incubator which develops start ups and directly adjoins Kościuszko Business Point.
The important issue is also a well-developed after-work sphere in our city, beginning with the old town which is fully signed in the UNESCO World Heritage Site and remains a social and entertainment place, through the most modern MotoArena in Europe, Hala Widowiskowo-Sportowa and concert hall, which is currently being built.
Still Toruń adjoins Bydgoszcz – quite big city, in which there is a headquarters of a voivode, most of the state administration offices and several universities. Do you think that Toruń may be more attractive for tenants?
The fact that Toruń is more attractive for tenants is confirmed by statistics. Currently, Toruń has a major advantage in the form of modern office space which is now realized in comparison to Bydgoszcz [according to JLL report, the supply of office space in Toruń in May 2014 totaled 47 000 sq. m, and in Bydgoszcz – 39 300 sq. m – ed.]. Moreover, despite of the superiority in space, the rate of uninhabited apartments in Bydgoszcz is twice bigger than in Toruń [24 per cent in Bydgoszcz, 11,8 per cent in Toruń – ed.]. Modern office areas in Toruń are located in central places which are easily communicated with the whole city, in opposite to Bydgoszcz – there, the largest office space is cumulated on the area of the Industrial and Technological Park located in the suburbs. The centralization of spatial structures of Toruń results in easy orientation of such zones as: business, science, tourism or entertainment. The proximity to voivodeship Bydgoszcz city and created projects, for instance, BitCity – a fast railway which connects Toruń with Bydgoszcz or currently designing integrated, inter-city ticket system, create a very quick flow of workforce between cities.
Which tenants are interested in hiring space in Toruń? Which sectors and capitals are represented?
The interest in the lease of office space is various – at least in case of our structure, perhaps due to its size because Kościuszko Business Point is so far the largest office structure in the region, beginning with medium companies with Polish, American, German and even Hindu capital. They are representative offices as well as typical services in the area of financial, insurance, advisory and medical centers. We are also negotiating with typical BPO sector, for which we are a perfect back office "product" for the widely developed activity on the markets in big cities.
Kościuszko Business Point – visualization
Kościuszko Business Point is going to be realized in the technology of an intelligent building. What exactly does it mean?
One of the main investment assumptions was to create a structure which will guarantee a flexible adjustment of space to different conceptions, for instance, cabinet or open (open space) system. Economic divisions of space, according to so called "planning grid" along with a limited to minimum rate of common space, provide rational management of rentable area. Moreover, we took care about high cost effectiveness and we also own BMS (Building Management System) in order to manage installations and systems in the building and well-developed telecommunication engineering network which is necessary to realize big projects, even from IT industry.
Is the building going to be an eco-friendly structure? Which solutions will be applied in it? Are you going to receive some certificates confirming the ecology?
Yes, certainly the building will be eco-friendly. It was our priority. The structure has many solutions applied, for instance, eco-friendly and conductive to limitation of energy and water consumption. It is worth to mention selective panes mounted in facades with so called "warm frames" which decrease infiltration of heat and thus decrease costs of heating and air-conditioning. Furthermore, we prepared place for bicycles' holders and showers for bicyclists. The comfort of tenants is also increased by: maximally great accessibility to a daylight, quiet work environment, suspended ceilings with efficient lighting, well-designed entrance zone with reception and round-the-clock security, terrace from Kościuszko Street, ecological green garden on the first floor's roof in the back part of the building, modern access control system with Full HD monitoring and air-conditioning and heating systems which enable smooth and individual regulation of parameters of air and temperature in rooms. After finishing of the first investment's stage, we are going to strive for precertification, and then – for LEED certificate.
There is also large space intended for services in the office. Which facilities will be available to tenants?
In order to provide comfort and convenience to tenants we planned that there will be such services in Kościuszko Business Point as medical center, pharmacy, restaurant of a business lunch bar type, corner coffee shop, banks, cosmetics services, fitness club or points of insurance companies. Moreover, we would like to organize events which integrate not only tenants, but also inhabitants of Toruń.
Is the building of Kościuszko Business Point going according to plan? On which stage is currently the realization of the complex?
The building of Kościuszko Business Point was based on the general contracting agreement and all works were conducted in accordance with our plan. At the end of October 2014 we received a legally valid permission for usage. Currently, the preparation of space for the first tenants is being continued.
Does Milenium Inwestycje company plan a building of other office structures? If the answer is positive, could you give us some details?
At present, Kościuszko Business Point owns 11 625 sq. m of total space. Due to negotiations related to lease with international companies, we are able to build adjoining complex which will be combined with the present structure within 12-14 months, guaranteeing the possibility of expansion to tenants who associate their business future with us.
Thank you very much for the conversation. I hope that in the nearest future we will be able to know some details about the mentioned complex!