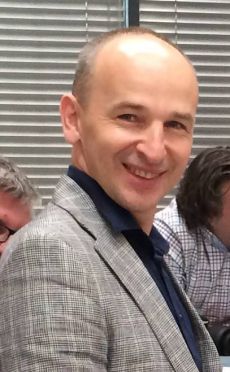 Floor covering in the office is not a trivial issue but the matter of priority. Well-performed, it can influence the character of the interior. We are talking with Key Account Manager of Forbo Flooring Poland and expert of floor solutions to offices Waldemar Kulikowski.
Modern office areas are designed in such a way to adjust them easily to changes occurring in the office structure. Can you tell us how floor coverings were adjusted to reorganized rooms?
We produce our floor coverings as tiles of the size 50x50 cm, which gives more possibilities in the area of patterns and provides simpler installation and easiness in exchanging single defected or dirty tiles. We also introduced a new collection of carpet tiles in different sizes in September this year. The main trend in arrangement of offices consists in maximal reduction of costs by choosing the most profitable solutions. In Forbo, we can select the floor to individual needs of our customers, reduce the price and still deliver high class solutions. It is because we offer floor coverings of lower area density, which have denser webs of closed structures making that such flooring does not keep the dust. Such solution allows to limit the costs. These are real added values for both users (easier cleaning) and investor (lower purchase cost).
One of the common places for office users is entrance zone. Many people use it every day and often bring dust and mud on the shoes from the outside. How to deal with this issue when a typical doormat is simply not enough?
The system of doormats is a fundamental issue in every modern building. It protects against the excess of dust and humidity which can be brought from the outside on shoes and wheels, and it additionally reduces costs of floor maintenance. I would like to emphasize that it is not about a single doormat, but a system of mats guaranteeing that everyone who enters the building encounters the mat at least several times during a day. For instance, only 6-meter entrance mat designed by Forbo Coral keeps up to 95 per of mud and dust from the outside. We also introduced a new collection of mats – Coral – in September, which are not only functional but they also look attractive. The entrance zone is the business card of every company and thus the visual aspect is equally important.
Stairs, entrances and exits are important zones in case of evacuation of the office. Such places require mats which are consistent with fire standards. How to meet these requirements?
All our products (flexible floor coverings, carpet floor coverings, doormats, etc.) meet the highest fire standards in their product class. We have realized many investments in the whole Poland on different kinds of staircases, entrances and exists. We are able to pick the proper and safe floor covering to every area in the office.
How flooring can influence the assessment in LEED and BREEAM certification?
Significantly. It depends on the amount of purchased material and their parameters. It can also influence several MR material points and the quality of the IEQ internal environment in LEED certification.
Why is it worth choosing patterns of floor coverings of high light reflectance?
It is because such floor covering can help in better lighting of the room with both natural and artificial light. The high light reflectance of floor coverings in combination with high reflection of the ceiling (and even walls) can significantly contribute to limitation of need for lighting with artificial lighting, which allows to increase the possible width of well-lighted office tract. It enhances the comfort and well-being of people spending their time in the room and thus it increases the quality of performed work.