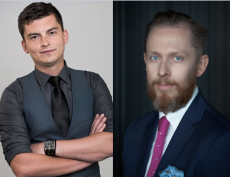 According to the report "The Investment Potential of Krakow" prepared by Antal and CBRE, the average evaluation of all factors in the capital of Little Poland is 7.1 points out of 10. Is Krakow actually an attractive place for investors?
Sebastian Wysocki, Manager of Antal's Department in Krakow: Krakow has been growing very dynamically for years. This city is currently recognized as a flourishing scientific, cultural and business center. However, we may observe that this labor market is to face the pervasive candidate-driven market and some difficulties with gaining a qualified personnel. This contributes to the fact that investors are taking a closer look to all rates that allow to determine accessibility to experts and managers in a given region while analyzing the potential of chosen locations. According to the research carried out by Antal, human potential is becoming a priority matter. In combination with other factors that characterize Krakow (such as education, infrastructure or accessibility to attractive office space), the city is still at the top of places of interest among investors in both European and all-Polish rankings.
What aspects affect investment decisions?
Kamil Tyszkiewicz, Director, Office Space Department, CBRE: Local authorities have been carrying out intense actions aimed at improving life quality, but, most of all, at providing good conditions for running a business for years. The city may boast about the greatest accessibility to qualified employees in Poland and the label of the second largest market of modern office spaces. These two aspects weight in favor of the capital of Little Poland.
We already know what aspects weight in favor of the capital of Little Poland, but, do they actually distinguish this city from other locations? If not, what factors in particular distinguish Krakow against other cities?
Sebastian Wysocki: The educational resources are always assessed really high in Krakow, which is transformed into great employment potential. Ca. 50 thousand people graduate from universities every year in the capital of Little Poland, 13 thousand of whom are graduates from technical universities (for comparison – there are only 7 thousand graduates in Warsaw). The access to the best qualified personnel distinguishes Krakow against other locations. The city is characterized by dynamic growth of shared services centers. There are twice as much new centers in the capital of Little Poland than in Warsaw. The demand for experts is therefore really high and the city can meet the needs of new investments. What's more, the leading place of Krakow on the office real estate market as well as rich offer adjusted to investors' differentiated needs are also of great importance.
One of the key branches of economy in Krakow is business center sector. Is the capital of Little Poland becoming a Polish outsourcing hub?
Kamil Tyszkiewicz: Business services sector is one of the key branches of economy in Little Poland. The intense growth of IT/SSC/BPO sectors in recent years is confirmed by increasing numbers of newly launched centers. Krakow occupies the second place in this respect, right after Warsaw, with the number of 157 shared services centers for business. There were almost twice as much new centers in the capital of Little Poland than in Warsaw within a year. It's also worth mentioning that the highest average employment in this sector can be recorded in Krakow. In spite of the increasing competition and strong presence of existing investments, new projects are constantly carried out in this city.