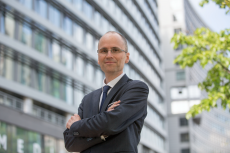 Why did You decided to start next Equator project in Aleje Jerozolimskie?
We bought the plot in Aleje Jerozolimskie in 2001. The risk level for investments was quite high in Poland then. There was a lot of legal uncertainty and it was not easy to develop investment project. However, we perceived this area as a future expansion district of Warsaw. It was close to the city centre, close to Central Business District and with potential to invest and develop business there. We were the first investor in this part of Aleje Jerozolimskie. Other investments was rather residential and a lot of them were quite old.
Why this area is interesting for You?
When we started our first office project - Equator I - City of Warsaw decided to carry out a hudge reconstruction of Aleje Jerozolimskie. It was planned for several years but thanks to this process Aleje has become one of the most convenient outgoing main roads for West. For us important was also vicinity of West train station, close location to the Cenral Business District, good access for car traffic and public transport development. We saw a potential for this district also in realization of other amenities like shopping centres, bicykle lanes, parking places and medical centers - which we also brought to our buildings.
What is the situation in terms of resources of office space in Ochota district comparing to other business districts of Warsaw?
Ochota is on the third place in Warsaw in terms of office supply among all districts in capital. Strong construction activity in South West districts of Warsaw (including Ochota) will result in increase in completions both in 2016 and specially in 2017. Moreover, Warsaw office market continues to see healthy levels of occupier demand. In 2015 approximately 117 000 sqm was leased in South West and almost 68,500 sqm in H12016. Ochota is one of the most popular district in construction and vacancy rate is lower than for whole Warsaw.
What are main factors that distinguish Ochota from other Warsaw districts?
Ochota has one of the most efficient road traffic in Warsaw. Comparing for exapmle to Wola, where we build our Skyliner, Ochota has better car location. Wola on the other hand is more public transport oriented. Except from business development that I have mentioned, Ochota is also one of the fastest developing districts in terms of residential project and amenities for residents. Thanks to many investments that are being realized now Ochota is gaining new public areas and the comfort of living and working will still grow.
How do You estimate the potential of Ochota further development?
The development of Ochota has been aided by its geographical positioning, as significant routes run through this district. It is the only district from which both the city centre and the International Airport can be reached within about 10 minutes. This is typical mixed district of business and residential and in following years it will develop in those both aspects. Very optimistic are also plans of local authorities to invest in infrastructure in Ochota as well as in public transport with reconstruction of Plac Zawiszy and further road system improvements.