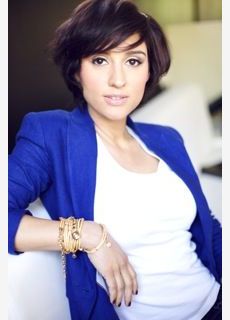 You organize lectures on coolhunting and you are also the one who has introduced this new occupation to the Polish market. Can you tell us something more about "coolhunters"?
First and foremost, coolhunters carefully observe the choices of consumers – not only in fashion but also in other industries like motorization, electronics, interior decoration, services, design, etc. Then, they analyze and create the best ways of reaching the receivers through the advertisement, new products and extension of the target group. Many companies which are interested in how to exceed the market the most effectively benefit from the services of coolhunters; these are such brands as Reebok, Bacardi, Burberry, Nestle, or Samsung.
What is the difference between coolhunter and trend-setter?
Trend-setter is a person who promotes and creates trends, fashionable products such as garments, telephones, or cosmetics. Trend-setter is a promoter of a certain brand and their main task is to promote a concrete brand. A certain company, for instance, dress them in fashionable and attractive clothes of the best designers, and equipped them with the newest model of a telephone, laptop, or even a car. The thing is that they cannot reveal the information about their occupation. Trend-setters promote themselves, and the consumer is to notice how stylish people they are, and then – at the back of their mind – to compare themselves to them and to want the things they have. Coolhunter, in turn, is mainly engaged in observation of a particular social group in refer to a concrete product.
Agnieszka Świst-Kamińska is a graduate from the London Central Saint Martins University of the Arts in cool hunting
You work as a style coach and you specialize in consultancy, style fashion for male and female as well as business dress code. Does appearance have an impact on effectiveness in achieving business goals?
The answer is yes, of course! Clothes have been one of the best ways for manifesting your spirit, social position and wealthiness for centuries. Dress code is a great tool for manipulation. Active work on changing your image means greater freedom in establishing business contacts as well as better earnings. Appropriate clothing and presentation of your person allow to break down the barrier of four seconds which decide about the opinion on how the other person perceives us.
According to many surveys, body language and clothing are very important in first impression of candidate for a job. Is appearance important during the recruitment process? If so, what are the things we should remember about?
I have already mentioned about the barrier of four seconds. It is a period when the other person formulates their first opinions about us. Therefore, the appropriate appearance is so important, especially during the recruitment process. It is worth remembering about choosing adequate clothes in accordance with dress code of a particular company where the recruitment process is conducted. First of all, we should dress smartly. We cannot lead to a situation when elements of our wardrobe are unironed. We also should limit the coloring to neutral and classical shades.
There are many companies in different industries. Are there any universal principles which should be obeyed by all of us, no matter of kind of work, level of formalization, place, etc.?
Of course, there are some universal principles of dress code in the business, which can be applied in every company. Men should wear a classical and elegant suit, shirt and tie in muted colors. They should also avoid unfastening their shirts or loosening a tie. The suit should be completed with solid footwear. What should be avoided is wearing sandals and patterned shirts which do not fit the totality. Women, in turn, should remember about appropriate length of a skirt or dress – to the knee or one centimeter above. They should avoid extravagant patterns and contrast colors. It is important to wear tights in every kind of weather as well as solid footwear. Toes should be covered!