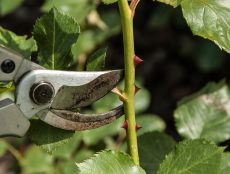 Undoubtedly, we should nurse plants all year long. However, we often do not think about their maintenance until we observe the first signs of the flowering outside the window. Is it the right time for "SPA for Flowers"?
Nature comes to life in spring. Flowers start the vegetative period, thus it is a perfect moment to nurse them. We should clean and trim them, add some new ground, etc. However, it is worth nursing them all the time, of course. Regular maintenance often gives us great effects. It is like with our fingernails and hair. When we care about them, that is nourish them and do our best so that they look good, they will. The same thing concerns plants. A nourished plant appreciates our time spent on their maintenance and gives us greenery, flowering and fresh air.
How to nourish plants? What treatments do you suggest when it comes to flower maintenance?
Flower maintenance includes such activities as: watering, feeding, fertilization, leaves maintenance, removal of withered tissues, trimming and forming of flowers, completion of ground defects, protection against diseases and pests (or possible pest control activities), replanting, or planting as well as cleaning.
Apart from the most basic treatments, it is worth taking notice of forming treatments. Thanks to them, we can trim flowers in such a way that they could gain specific shapes and not be "unkempt". Flowers which are not trimmed do not look aesthetically and they often break (especially yuccas and dracaenas).
What treatments would you consider essential?
It is important to wash and water plants regularly. It is worth fertilizing them, for "fatted" flowers have more beautiful coloring, they blossom more intensively and they are stronger. It is advisable to change the upper layers of ground because water often causes a white sediment, which does not look aesthetically. Therefore, the upper layers should be removed and replaced with new ground. The ground should be "aerated", that is aerified and scarified. Thereby, the plant is provided with better conditions for growth.