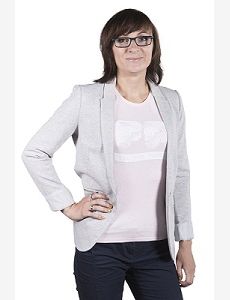 What actions should be undertaken to enhance the level of happiness among employees?
First and foremost, we should not look for reasons for their happiness but invite them to discussion. The purchase of table football or console will certainly enhance their well-being, however, the sense of work, development prospects or atmosphere in the office will be of great importance in the long-term perspective, and definitely we should not forget about it.
How to measure the level of happiness among employees?
The sense of happiness is a very subjective issue and there is no better way for measuring its level than asking employees about it. In Future Processing we conduct not only a comprehensive survey every year but also mini polls every month with only one question: "To what extent do you consider yourself as a happy person in FP?". We also have a "safety valve" on our internal website, and everyone can click the upper or the lower button to let us know about their well-being in a given day.
How to make newly employed not to feel strange while joining employees who already know each other very well?
Except for delivering necessary information to new employees, it is worth making them feel welcomed from the very first day (or even earlier). In our case, we always try to establish a friendly relation during the recruitment process, we suggest introducing ourselves on a first-name basis at our first meeting; we do not only quiz our candidate but also talk about ourselves. Before coming to work, every new person has an occasion to meet with the owner of company one-to-one and to receive company gadgets as well as the "Must-know" guide written in a friendly form. Thus, new employees can get to know us from the very beginning; we try to reduce the anxiety which is an inseparable part at changing your work. We do our best to prepare all organizational issues (desk, computer, account, etc.) before first day at work, and new employee should feel naturally and comfortable having all necessary information on hand (where and when they should appoint, how to commute, etc.). A direct leader welcomes the new team member at the reception on the first day and cares about their introduction to the whole team. We encourage our teams to use specially prepared exercises, which allow to know each other better, however, they often have their own ideas concerning welcoming new people, such as welcoming cake. We take care about guiding, introducing to our systems as well as showing both culture and philosophy of our company during FPAdventure – our authorial adaptation program.
Do you think that the occupation of Chief Happiness Officer is going to be more and more popular in Poland?
I think that companies will have to take care about happiness of their employees even more efficiently in current times of constant struggle for finding new experts on the labor market. I hope that the trend for similar functions will also attract a new change of thinking among employers, who will not be only focused on establishing new posts related to happiness and buying newer and newer gadgets.